Shea butter is a fat extracted from the nut of the African Shea tree (Vitellaria paradoxa). It is usually yellow in color when raw, with Unrefined, refined, and Ultra-Refined Shea butter being ivory or white in color. Shea butter is a fat derived mainly from stearic acid and oleic acid. It is naturally rich in vitamins A, E and F. It offers UV protection (it is SPF ~6) and provides the skin with essential fatty acids and the nutrients necessary for collagen production. It is widely used in cosmetics as a moisturizer, salve or lotion. Shea butter is edible and is used in food preparation in Africa.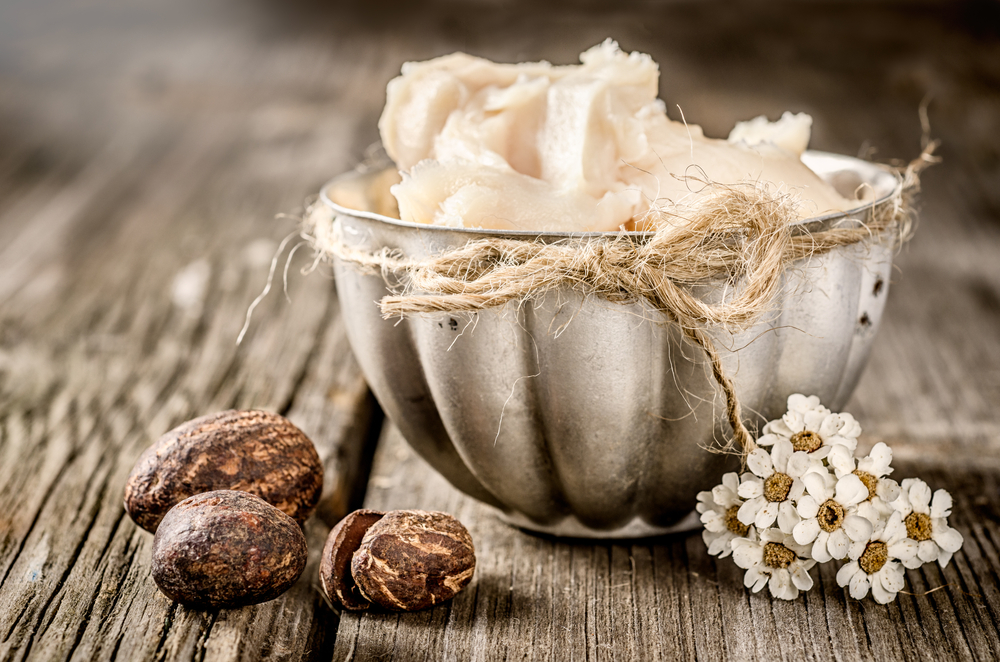 Extracting Shea butter is not an easy task. Initially, the wild Shea fruit is allowed to ripen on the Shea tree. It is then collected and extraction of kernel from the Shea fruit begins. The kernels are then washed and dried and the best quality kernels are chosen. The fine quality kernels are then crushed and roasted and grinded till the time they get a paste like structure. Water is added to the paste and then it is kneaded to emulsify the oil. The emulsified oil is boiled to eliminated water and sanitize. The purified oil is strained to from the Shea residue. The oil is allowed to cool and solidify. It is then packed and exported to various countries.
Shea Butter Benefits
Moisturizing

: The concentration of natural vitamins and fatty acids in Shea butter makes it incredibly nourishing and moisturizing for skin. It is often used to remedy dry skin and to help protect the skin's natural oils.

Reduces Inflammation

: A 2010 study found that due to its cinnamic acid and other natural properties, shea butter was anti-inflammatory. (source) One compound in particular, lupeol cinnamate, was found to reduce skin inflammation and even potentially help avoid skin mutations. This also makes it beneficial for some people with acne.

Skin Smoothing

: Shea butter aids in the skin's natural collagen production and contains oleic, stearic, palmitic and linolenic acids that protect and nourish the skin to prevent drying. With long term use, many people report skin softening and strengthening as well as wrinkle reduction.
Shea Butter Uses
SPF 6 skin lotion

Base for homemade deodorant

Wards of stretch marks

Face and body moisturizer

Massage Butter

Under-eye wrinkle remover