Mango butter is extracted from the kernels of the Mango tree which typically grow in the tropics, where they grow into very large trees. It has a shell life of around 12-18 months. Mango butter shares a lot of the same uses as Shea and Cocoa butter, however the fatty acid profile varies slightly with an enhanced level of anti-oxidants and vitamins. It is rich in Vitamin A, Vitamin C, Palmitic acid, Arachidic acid, Linoleic acid, Oleic acid and Stearic acid.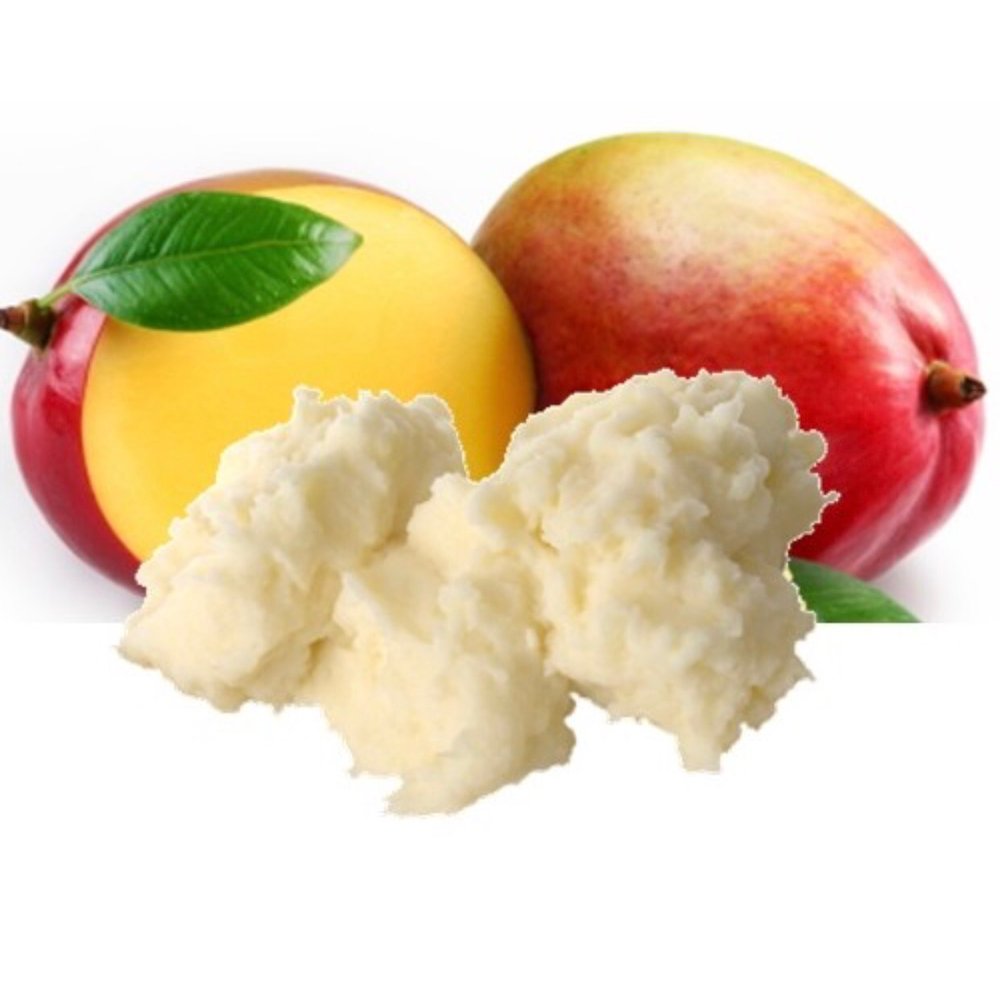 Benefits of Mango Butter
Mango butter is ultra-moisturizing. It hydrates skin, plumps it up and prevents dry itchy and tight skin. It's perfect to be used as a hand cream, face cream or body moisturizer.
Fights off Fine Lines & Wrinkles
Rich in nourishing fatty acids and antioxidants, mango butter is good for smoothing fine lines and preventing wrinkles. It also deeply moisturizes skin which keeps skin firm, smooth and beautiful.
Since Shea butter and cocoa butter are also very effective in healing scars at a fast rate, consider making a scar cream with all three of these butters combined together.
Mango butter is also very soothing for bug bites. It heals the skin, stops itching and reduces inflammation. Dab a little mango butter on bug bites the next time the little buggers put a mark on you!
For thick and curly haired people, mango butter can be used as an excellent moisturizer.
Maintains the Skin's Elasticity & Flexibility
With its high linoleic and oleic acid content, mango butter is very good at maintaining the skin's elasticity and flexibility. It also has vitamin C that boosts collagen production in skin. Collagen is a structural protein that keeps our skin looking smooth, soft and youthful.

Treats Eczema & Psoriasis
Mango butter is anti-inflammatory and can help treat dry itchy and red skin caused by eczema and psoriasis.

Heal sun damaged skin with mango butter. To soothe and treat a sunburn, you can make a cooling cream using mango butter, Aloe Vera gel, sea buckthorn oil and peppermint oil.
When used in soap making, mango butter produces a hard bar that gives enough moisturizing and conditioning lather.
.
This makes mango butter suitable for body care products, natural soaps, lotions and massage creams and hair products. The lighter nature of Mango butter makes it a popular choice for neck, facial and foot areas, where Shea and Cocoa butters can be a little too heavy.
.