Cocoa butter, also called The obroma oil, is a pale-yellow, edible vegetable fat extracted from the cocoa bean. It is used to make chocolate, as well as some ointments, toiletries, and pharmaceuticals. Cocoa butter has a cocoa flavor and aroma. Its best-known attribute is its melting point, which is just below human body temperature. One of the most important qualities of cocoa butter is its high stability as compared to other fats. This unique aspect gives it a very impressive shelf life of 2-5 years, which is even further improved by the antioxidants found in cocoa butter, thereby reducing the chances of the oil becoming rancid. You can find it in many forms, but it is still primarily consumed in chocolate.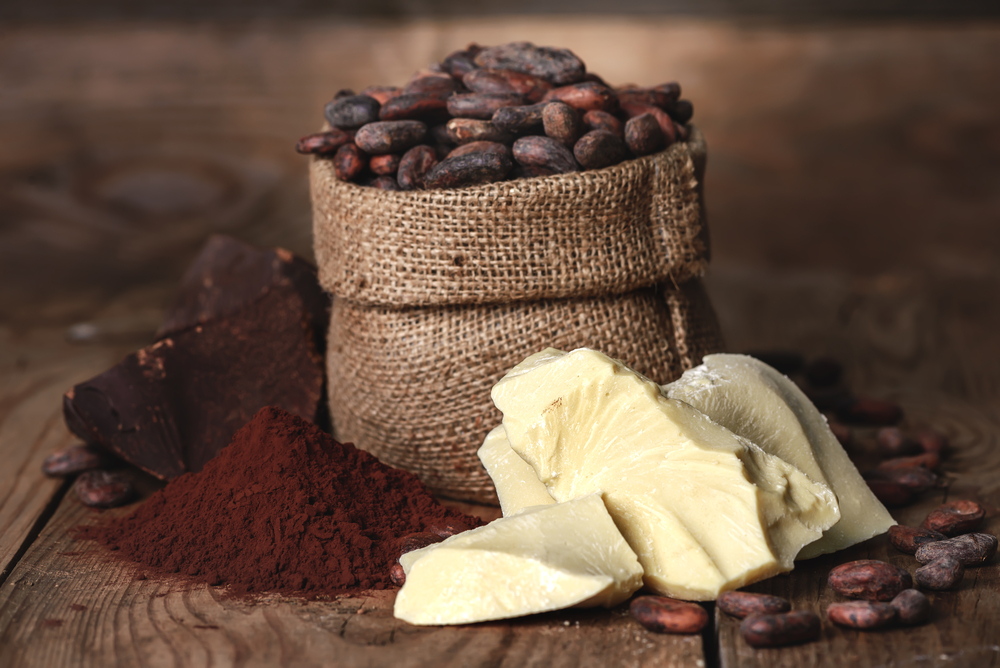 Cocoa butter is obtained from whole cocoa beans, which are fermented, roasted, and then separated from their hulls. About 54–58% of the residue is cocoa butter. Chocolate liquor is pressed to separate the cocoa butter from the cocoa solids. The Broma process is used to extract cocoa butter from ground cocoa beans. Cocoa butter is sometimes deodorized to remove strong or undesirable tastes.
Health benefits of Cocoa Butter
Prevents Aging
One of the reasons that cocoa butter is so valuable is its high concentration of antioxidant compounds, including oleic acid, palmitic acid, and stearic acid. Although these are technically fatty acids, they are beneficial for the body and help to neutralize free radicals throughout the body, particularly in the skin. By reducing the occurrence of oxidative stress, cocoa butter can help reduce the signs of aging, including wrinkles and age marks.
Removes Scars
Research has also shown cocoa butter to reduce the appearance of scars on the skin and help to boost overall skin health.
Hair Care
Apart from its delicious aroma, cocoa butter can also help to moisturize your hair, helping to improve its general appearance and strength.
Skin Care
The antioxidant qualities of cocoa butter certainly take care of most signs of aging, but cocoa butter also protects the skin from outside agents as well. The antioxidants and beneficial organic molecules protect the skin from environmental, internal, and external forces that can cause irritation or damage to the skin.
Reduces Inflammation
The rich blend of fatty acids and antioxidants in cocoa butter make it an ideal choice for people who want to reduceinflammation of the skin. Whether you apply cocoa butter to psoriasis, eczema, rashes, or other types of inflammation on the body, you can find quick, soothing relief, combined with a delicious aroma.