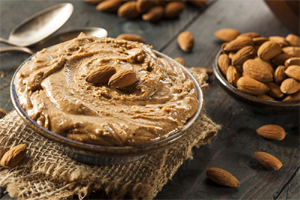 ALMOND BUTTER
Almond butter is a food paste made from almonds. Almond butter may be crunchy or smooth, and is generally "stir" (susceptible to oil separation) or "no-stir" (emulsified). Almond butter may be either raw or roasted, describing the almonds themselves prior to grinding.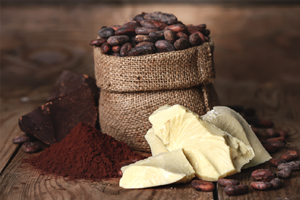 COCOA BUTTER
Cocoa butter, also called The obroma oil, is a pale-yellow, edible vegetable fat extracted from the cocoa bean. It is used to make chocolate, as well as some ointments, toiletries, and pharmaceuticals. Cocoa butter has a cocoa flavor and aroma. Its best-known attribute is its melting point, which is just below human body temperature.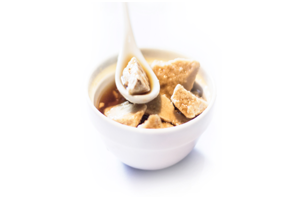 KOKUM BUTTER
Kokum butter is one of the most stable vegetable butters available in the market. It's also one of the hardest. Another peculiar feature which makes it popular among formulators of cosmetic products is that Kokum butter remains in a solid state at room temperature, but melts immediately on contact with the skin. Its triglyceride composition is uniform, and consists of up to 80% of stearic-oleic-stearic (SOS) triglycerides.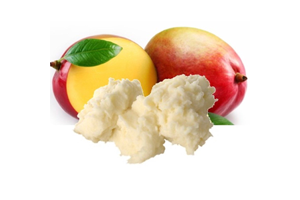 MANGO BUTTER
Mango butter is extracted from the kernels of the Mango tree which typically grow in the tropics, where they grow into very large trees. It has a shell life of around 12-18 months. Mango butter shares a lot of the same uses as Shea and Cocoa butter, however the fatty acid profile varies slightly with an enhanced level of anti-oxidants and vitamins. It is rich in Vitamin A, Vitamin C, Palmitic acid, Arachidic acid, Linoleic acid, Oleic acid and Stearic acid.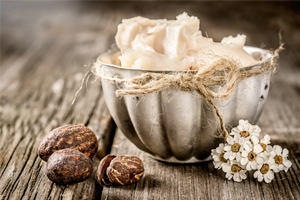 SHEA BUTTER
Shea butter is a fat extracted from the nut of the African Shea tree (Vitellaria paradoxa). It is usually yellow in color when raw, with Unrefined, refined, and Ultra-Refined Shea butter being ivory or white in color. Shea butter is a fat derived mainly from stearic acid and oleic acid. It is naturally rich in vitamins A, E and F. It offers UV protection (it is SPF ~6) and provides the skin with essential fatty acids and the nutrients necessary for collagen production.